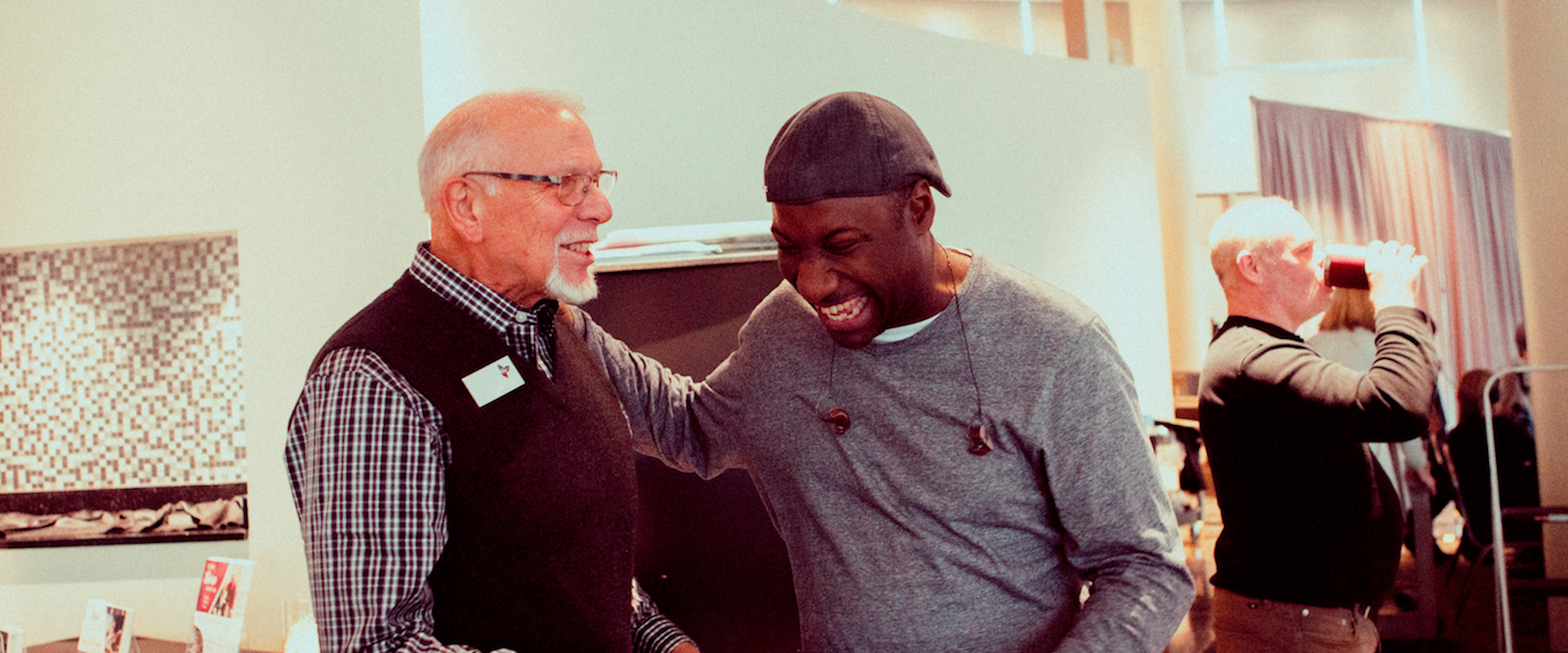 Men's Ministry
Second Saturday Food Pantry Pack Up Team
Monthly | 10:45 a.m.–12:00 p.m. | Salvation Army
Each month we need help at our food pantry we host at the Salvation Army (1 S. 415 Summit Ave., Oakbrook Terrace). A specific and special need is in relation to the tear down and packing up once our clients are served. Great opportunity to fill a big need in a short amount time making some new friends in the process.
Men's Community Groups

Second & Fourth Wednesdays | 6:30 a.m. | Oak Brook | Fellowship Hall 3
Wednesdays | 7:00 p.m. | Butterfield | Community Room
Butterfield groups resuming early March

Morning person or not we have an option for you each Wednesday to join in with other men to experience a centralized time of study and then continue building community through discussions and reflections around the tables.

If you need a free membership to this "Netflix" of Bible studies please contact Diana Stout at dstout@ChristChurch.us.

+

Men's Breakfast Fellowship
Thursdays | 6:30 a.m. | Oak Brook | Fellowship Hall 3


Men's Breakfast Fellowship

Thursdays | 6:30 a.m. | Oak Brook | Fellowship Hall 3

For over 50 years the men of Christ Church have gathered with Rev. Dr. Arthur DeKruyter, Rev. Dr. Dan Meyer, Rev. Ralph Robrahn and Roger Harris to encourage one another & grow in their faith.

March 16 and 23 we will finish a series on Salvation with guest speaker Dr. Bill Miller.
March 30 Rev. Dr. Dan Meyer will join us for a special Men's Townhall with Pastor Dan. All men are welcome for this casual and interactive event with pre-submitted questions and moderated by Jim Huffman.

No Men's Breakfast Fellowship meeting during Holy week on April 6.

Starting April 13 for at least 21 weeks we will be covering the unique Gospel of John with a video segment from the well-known Dr. Tony Evans, table talk and a commentary from Roger Harris.

Join us for food, multi-generational fellowship, discussion, prayer and most importantly God's Word. Coffee, orange juice, and pastries are provided for a free will offering. Meeting ends by 7:45 p.m. No problem if anyone needs to leave early!

Contact Don Brown at ldonbrown@msn.com to get on our regular mailing list, to connect with Zoom, have any questions or just need to pray with someone.

+

Rooted
Spring Session | March 5–May 21

Rooted Groups

Spring Session Dates | March 5–May 21
Sundays | 4:00 p.m. | Oak Brook
Wednesdays | 7:00 p.m. | Butterfield
Registration is now closed

At Christ Church, we believe that God designed us to live in community. Rich, lasting relationships help us to grow spiritually, face life's challenges well and become who God created us to be. Group life provides us with a safe space to deepen our walk with Christ, grow closer to others and be equipped to make an impact in the world around us.

Christ Church offers a variety of groups to accommodate people in every age and stage. Each group begins its life together by undertaking Rooted, a 10–week experience that will deepen your faith and help you discover God's purpose for your life.

Rooted is much more than a Bible study. Each group consists of 6–12 people committed to exploring the Bible, engaging in prayer, serving others, sharing their stories and developing the practices essential to a healthy spiritual life. Because Rooted is such a unique and immersive experience, we suggest reading through the Rooted: What You Need to Know section below.

Being a part of a Rooted group requires an investment of your time and commitment to engage in the weekly readings and reflections, participating in group discussions and volunteer initiatives. It may seem like a big ask, but we don't hesitate to make it because we know the journey is life-changing. Time and time again people tell us that they are glad they made the decision to get involved in a group. They are closer to God. They have made significant relationships. And they feel more at home and invested in the church.

Rooted registration is now closed. You can join the waitlist here.

If you have any questions, feel free to email us at groups@ChristChurch.us; a Rooted team member will be happy to chat with you. You can also find the Rooted schedule here.

+

Men's Meet-Ups
March 2 | 6:30 p.m. | Butterfield
Food, Fellas & Floor Hockey